One of the fastest-growing trends of the past 12 months has been cottagecore. What originally started out as an internet post in 2018 has now grown into a worldwide movement, which is now being reflected in home-style choices in the UK and all across the world.
Here Xylo Flooring, who provide high-quality laminate and vinyl flooring to developers and the retail trade, look at how it all started, its key design features, and how we can help if any of your customers want to become part of the cottagecore 'movement.'
The Birth of Cottagecore
The term cottagecore was first mentioned online back in 2018. Its key elements are nostalgia for the past, a simpler life, and harmony with nature. Basically, it is centred around what you would imagine living in a cottage in the countryside would be like. This includes embraqcing traditional skills such as gardening, cooking, baking, and crafts like pottery.
It is therefore not surprising that the movement gained a lot of traction in 2020 with so many people spending more time at home because of the numerous lockdowns and restrictions.
Cottagecore initially incorporated other various aspects of home life, such as fashion and clothing, but has now crossed over into a fully blown interior design trend, which we will discuss more below.
Key Interior Design Features
One of the fundamental factors of cottagecore is the use natural materials wherever possible, particularly wood. Specifically:
Handmade Furniture – Rather than opt for mass-produced tables, chairs and sofas. and other furnishings, the true cottagecore devotee prefers to opt for handmade pieces that create a unique look.
Upcycle – Cottagecore needn't cost the earth either, even if that's part of the look. Interior designers usually aim to reuse old items, for example repurposing wooden pallets as shelves, or using wheelbarrows as distinctive planters.
Say it with Flowers – Curtains with a floral pattern, offset with vases with pretty flowers and other potted plants, will help to create that cottagecore look too.
Colour Schemes – Stick to natural shades here too, such as greens, stone greys and ocean or sky blues. This will help to bring nature into the home, even if the owner lives in the heart of a town or city.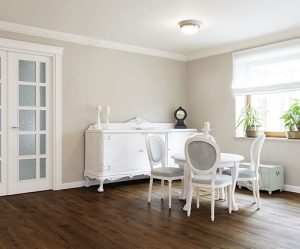 Don't Forget the Flooring
Wooden flooring is a key element of any cottagecore interior design project. It is because you are trying to capture a realistic natural look that wood is preferred to carpets, tiles or other synthetics forms of flooring.
However, although engineered hardwood flooring is prefered, certain types of laminate or vinyl flooring are possible options too (particularly, if a budget does not cover hardwood flooring). This is because they provide the same look and are also stylish and hardwearing.
Vinyl flooring will also provide the right effect, provided you stick to warm tones such as brown or soft grey. Xylo's Dynamic Click range of vinyl flooring such as Augusta Dark Walnut, pictured above, or Medinah Grey Oak fit this bill.
Alternatively, you could try a wide-plank option, such as our Islington range of oak flooring. These are cut from larger pieces of wood which means you will see more of the knots, whirls and grains, giving a truly rustic feel.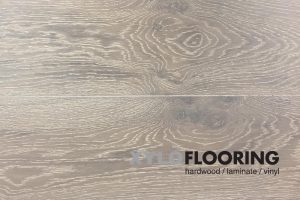 The 240mm wide plank also has the effect of making smaller rooms appear bigger, meaning you can create the cottagecore look even if you live in a small urban property. If this is the look your customers are looking for, the Polar White Stained Oak pictured above is a good choice.
Quality Wooden Flooring from Xylo Flooring
Xylo Flooring supply high-quality hardwood, laminate and vinyl flooring to the retail industry and building trade. If you would like to know more about our products or find your nearest stockist click this link or email us at sales@xyloflooring.com.